Gary Manufacturing Custom Pleated Windshield Drapes
Ships Direct From Manufacturer - ETA 4+ Weeks
Beautifully made, individually customized windshield drapes for your RV available in a variety of fabric options. *Price will change after selecting your options* SEE "DETAILS" SECTION FOR INSTRUCTIONS.
More Information
Item #
GMCPWD
Brand
Gary Manufacturing
Model
GMCPWD
Fits
Custom application, you design this product to fit your specific needs.
Features
Made ready to hang on your existing track.
Reinforced heading keeps pleats neat.
Manufacturer adds material for fullness and a richer appearance.
Separate lining material provides superior privacy, light control and insulation.
Drapes (if ordering 2 or 3 panels) and tie-backs are made with Velcro.
Matching tie-backs and new drape carriers included.
Lined with a Therma-foam, room-darkening liner which is 70% Polyester - 30% Cotton.
Made from 100% Polyester Turin fabric, a faux silk fabric that has passed the MVSS-302 fire retardant test.
Dry Clean Only!
Included
Drape(s) custom made to YOUR specifications!
Tie-back(s) and Carriers are included to install your new drape(s)
(You will receive ONE tie-back per panel, you may order extra tie-backs by selecting the additional amount you are in need of)
Dimensions
Available in 1, 2 or 3 panel configurations ranging from 0 - 230" Wide and 0 - 48" Long.
Tie-back Size: 18" x 6"
Made in
USA
Special Order Item
Yes
Return Policy
Non-Returnable/Non-Refundable
LTL Freight
No
The creators behind Dyer's RV are campers just like you, and we know how important privacy is considering at some campgrounds you're parked just a few feet away from your neighbor! That's why we've taken the time and searched for the best of the best to provide you with beautifully made, custom to your measurements, pleated windshield drapes.
Coach Coordinates by Gary Manufacturing is based out of National City, California and has been a partner of Dyer's RV for many years now. For over 50 years they have provided excellent craftsmanship and incredible customer service. They've gone above and beyond to learn what they can about manufacturing RV drapes so that these new ones are almost always a direct replacement for your existing drapes.
These windshield drapes can be ordered in a single panel, two panel, three panel, or even a four panel configuration (please call us at 623-266-3022 for four panel configurations). No matter how many panels you order, each one comes with its own tie-back and a full set of new carriers chosen by you! 
Choose from 1 of 6 beautiful colors for your new pleated windshield drapes. The material used is called Turin which is a faux silk design that is woven out of 100% polyester, and is intrinsically fire retardant™ (has passed the MVSS-302 fire retardant test). The rich sheen gives off an eye catching, yet affordable elegance. The drapes are then finished with a room-darkening polyester-cotton blend liner that ties it all together.
We've made ordering curtains as easy as it gets! Take a look below for our step by step instructions. Pricing is based off of your measurements and add-ons so the starting price at the top of this page will change once you fill out the order form.
HOW TO MEASURE AND PLACE AN ORDER:
IMPORTANT NOTE: Do NOT measure your existing drapes for your width measurements (please see third and fourth image for diagrams on how to measure width). For the width measurements, you MUST measure your existing curtain track(s). You may measure your existing drapes for the length measurement ONLY.
Measurements should be given as width (side to side) by length (top to bottom) in inches.
STEP 1: Choose your color. More photos of each color can be found above by scrolling through all of the pictures on this product. Color can be distorted slightly depending on different monitors/screens you may be viewing this product on.  CLICK HERE to order FREE fabric samples. 

STEP 2: Select your total track width in inches, see below diagram to see how to measure correctly. This total measurement will determine the price of your drape(s).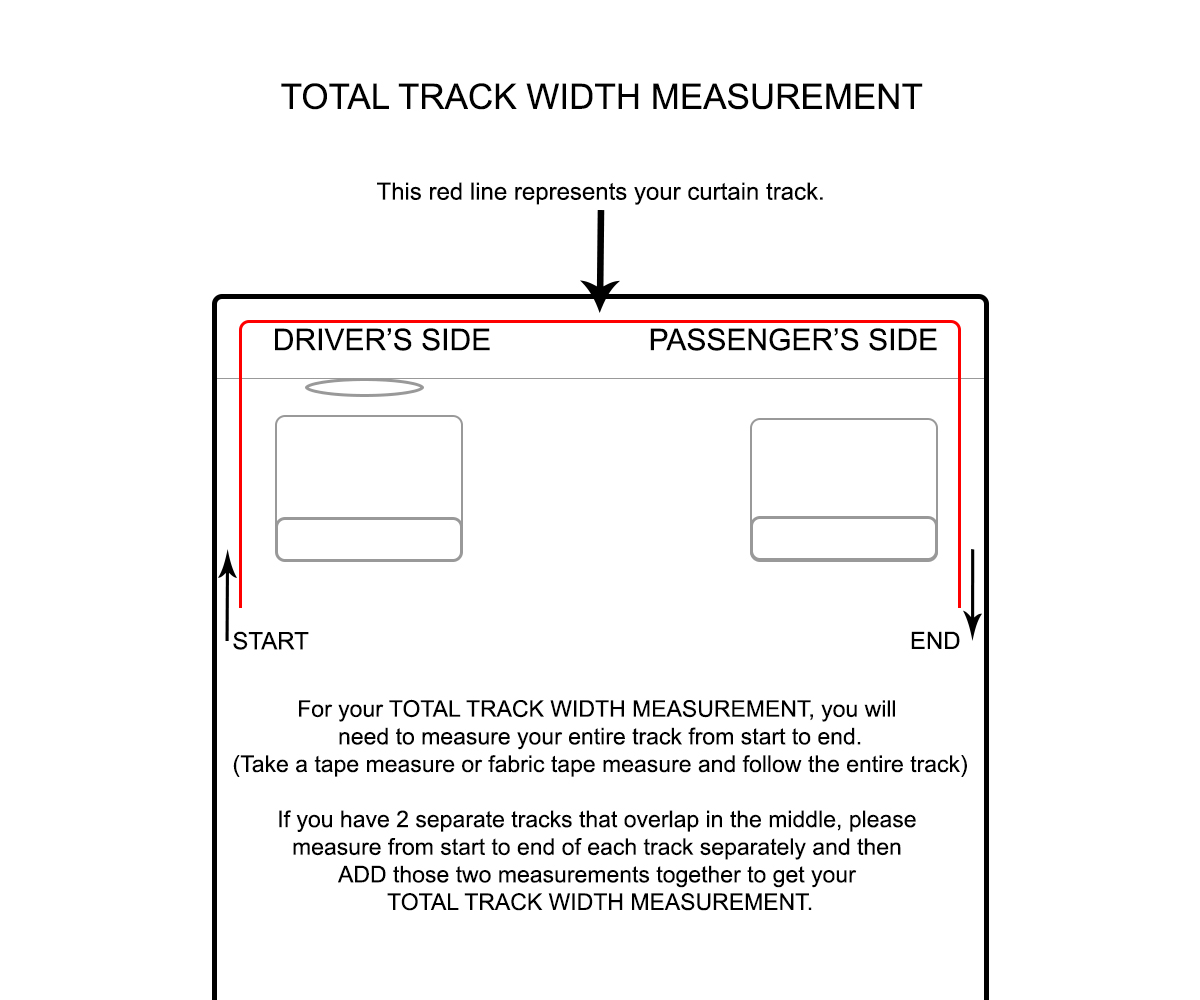 STEP 3: Select how many drape panels you want. (Example: If you have 1 drape that covers the driver's side and a 2nd drape that covers the passenger's side, then you will need 2 panels total.)
Now you will need to specify what size you want each of your drape panels to be.  If you are only ordering 1 panel, then you will enter the same measurement as your total track measurement. If you are ordering multiple panels, we need to know what size you want each panel to be.  Each panel measurement MUST add up to EQUAL your total track measurement. 
STEP 4: Enter your driver's side panel, center panel (if applicable), and passenger's side panel (if applicable) track width measurements, see below diagram for examples on how to measure.  Please make sure these measurements add up to equal the same measurement you selected for your TOTAL track measurement.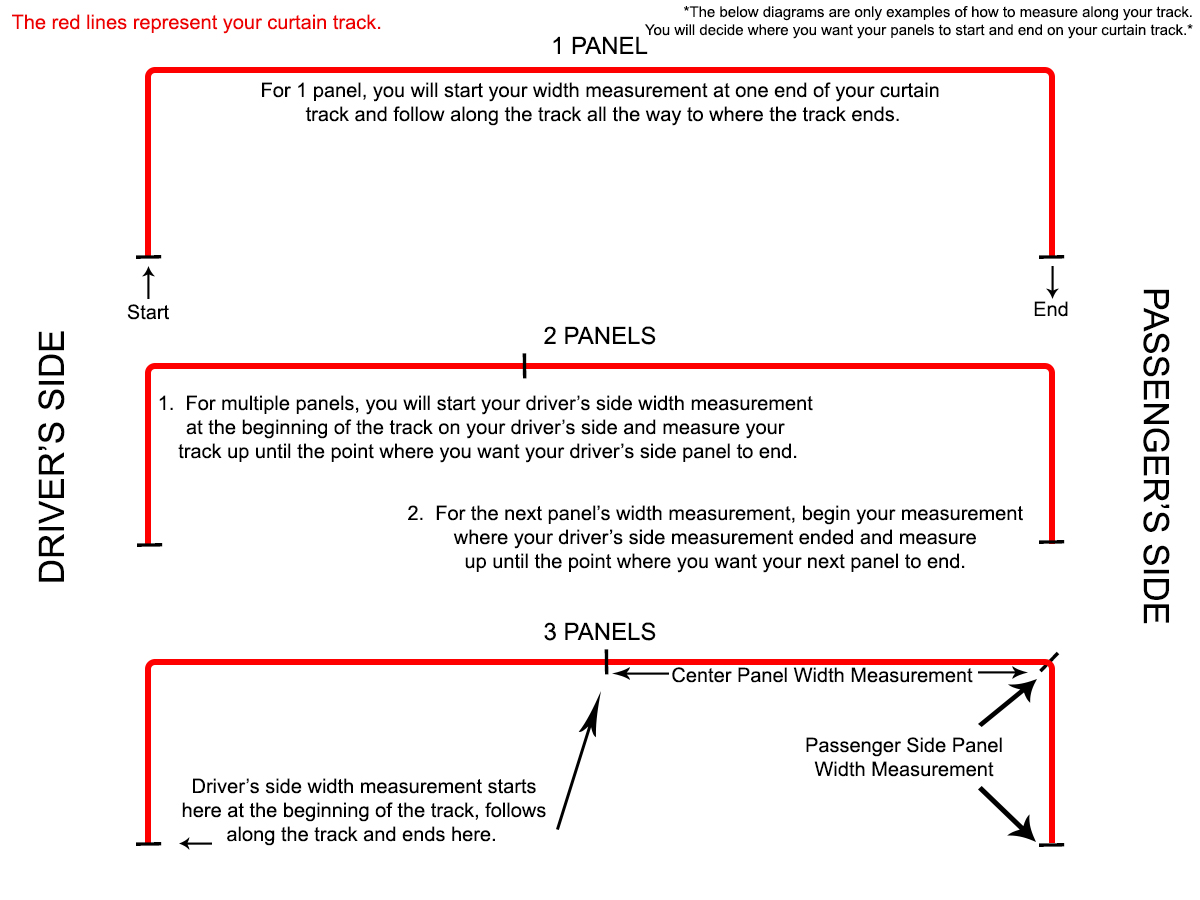 STEP 5: Select your drape length measurement (top to bottom measurement). Measure from the top of your track down to where you want the drapes to hit. If you have existing drapes, you can measure their length from top to bottom.
STEP 6: Select your carrier. The carrier is the piece that connects your curtains to the track that they glide on.  Please see below image.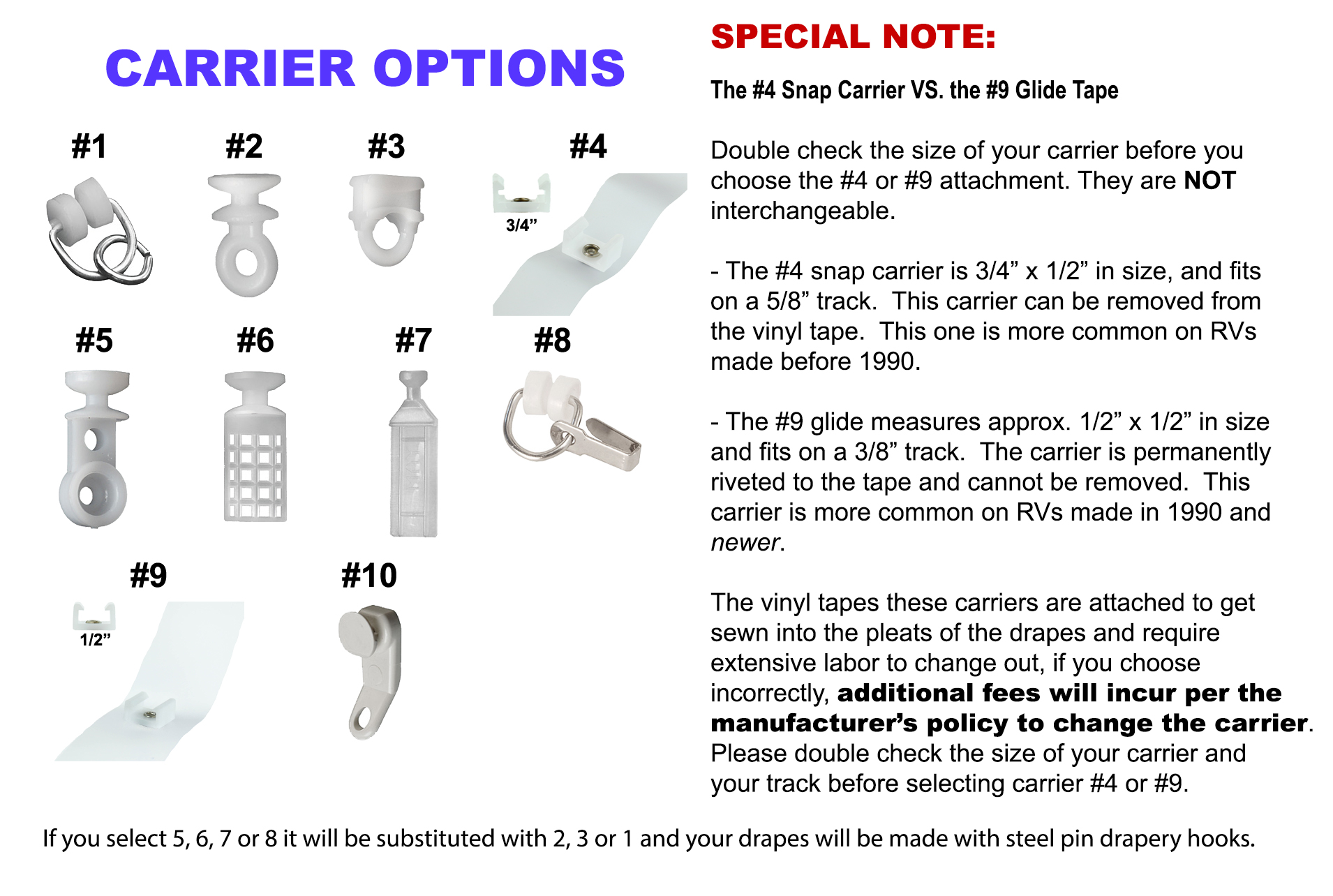 Carrier #1 replaces older style Carrier #8
Carrier #2 replaces older style Carrier's #5 and #6
Carrier #3 replaces older style Carrier #7
Carrier's #4, #9 and #10 are NOT replaced by anything, they are currently in use still in today's RV drapery production.
STEP 7: Select how many additional tie-backs you will need. Each panel comes with 1 tie-back per panel. If you need any extra tie-backs this is where you will select how many extras you want.
STEP 8: Fill out the Year, Make, and Model of your RV. We cannot verify your measurements by your RV year, make, and model information. The manufacturer simply uses this information to document different curtain sizes for different RV's.
REVIEW YOUR SELECTIONS AND MEASUREMENTS CAREFULLY AND THEN CLICK ADD TO CART.
Special Note: The #4 and #9 carrier type are very similar, but are NOT the same and are NOT interchangeable.  They differ in size by approximately 1/4", so measure your existing glide to make sure you order the right one.  The #4 carrier can be removed from the tape with a small amount of force and fits on a 5/8" track; the #9 carrier is permanently riveted to the tape and fits on a 3/8" track.  Please see all of our pictures at the top of this page to see what each carrier looks like and for more detailed dimensions.  
The vinyl tapes these carriers are attached to get sewn into the pleats of the drapes and require extensive labor to change out, if you choose incorrectly, additional fees will incur per the manufacturer's policy to change the carrier. Please double check the size of your carrier and your track before selecting carrier #4 or #9.
*This item is NON-RETURNABLE and NON-REFUNDABLE*
- Due to the extreme custom nature/personalized manufacturing of this item, these cannot be modified, canceled, exchanged, returned, or refunded. 
- Once you place your order, you own them.  NO EXCEPTIONS!
- Please carefully check, then re-check your measurements and shipping information before you complete your order. 
*ALL DRAPE ORDERS SHIP VIA UPS SIGNATURE REQUIRED SHIPPING - 21 YEARS OR OLDER SIGNATURE REQUIRED FOR DELIVERY*