White Vinyl Replacement Slide Topper Fabric for Carefree, Dometic and Lippert (Sold Per Inch)
Replacement slide topper vinyl awning fabric customer cut to YOUR measurements in the color white. Made for Dometic (A&E), Carefree and Solera (Lippert) slide toppers with a standard 47" projection.
More Information
Item #
87904
Brand
Dometic
Compatible With
Dometic (A&E), Carefree and Solera (Lippert) Slide Out Awnings with a Standard 47" Projection
Color
White
Features
12oz. Vinyl Fabric
Included
Custom Size Fabric ONLY
Pre-Installed Poly Cords
Dimensions
Width: Custom Cut to Your Measurements
Depth: Standard 47" projection
Special Order Item
Yes
Return Policy
Non-Returnable/Non-Refundable
UPC
740544796907
LTL Freight
No
WARNING: This product can expose you to chemicals, which is known to the State of California to cause cancer and reproductive harm. For more information, go to
www.P65Warnings.ca.gov
.
Has the harsh sun or blustering winds beat down your slide topper fabric? Are you ready for a replacement at an affordable price made just for you? This White Vinyl Replacement Slide Topper Fabric made by Dometic is your answer. It comes straight from Dometic to our warehouse – You tell us the size you want and we'll cut it for you and ship it out – it is that easy!
The pre-installed poly cord rope simply feeds right into your roller tube and your awning rail – No expensive installer needed. The do-it-yourself RVer can have this fabric set-up in no time at all.
This Dometic replacement fabric for slide-outs is a great investment for protecting your RV slide out for years to come while looking pretty snazzy doing it!
HOW TO MEASURE:
In some cases, your vinyl awning fabric will shrink over time due to copious amounts of sun and heat exposure.  To order the correct size for your new replacement vinyl fabric, please measure the tube your fabric rolls up on (the awning roller tube/roll bar) and subtract 2" from that total measurement.  By subtracting 2" from your roller tube measurement, this allows a 1" gap on each side of the fabric when installed so that your fabric can roll back up without the fear of it rubbing or snagging on the roller tube end caps. 
You can also measure your existing awning fabric if you would like your replacement fabric to be the same size as your current fabric, but please keep in mind that there must be a gap on each side of the roller tube between your fabric and the end caps to prevent any damage to the awning fabric when extending or retracting.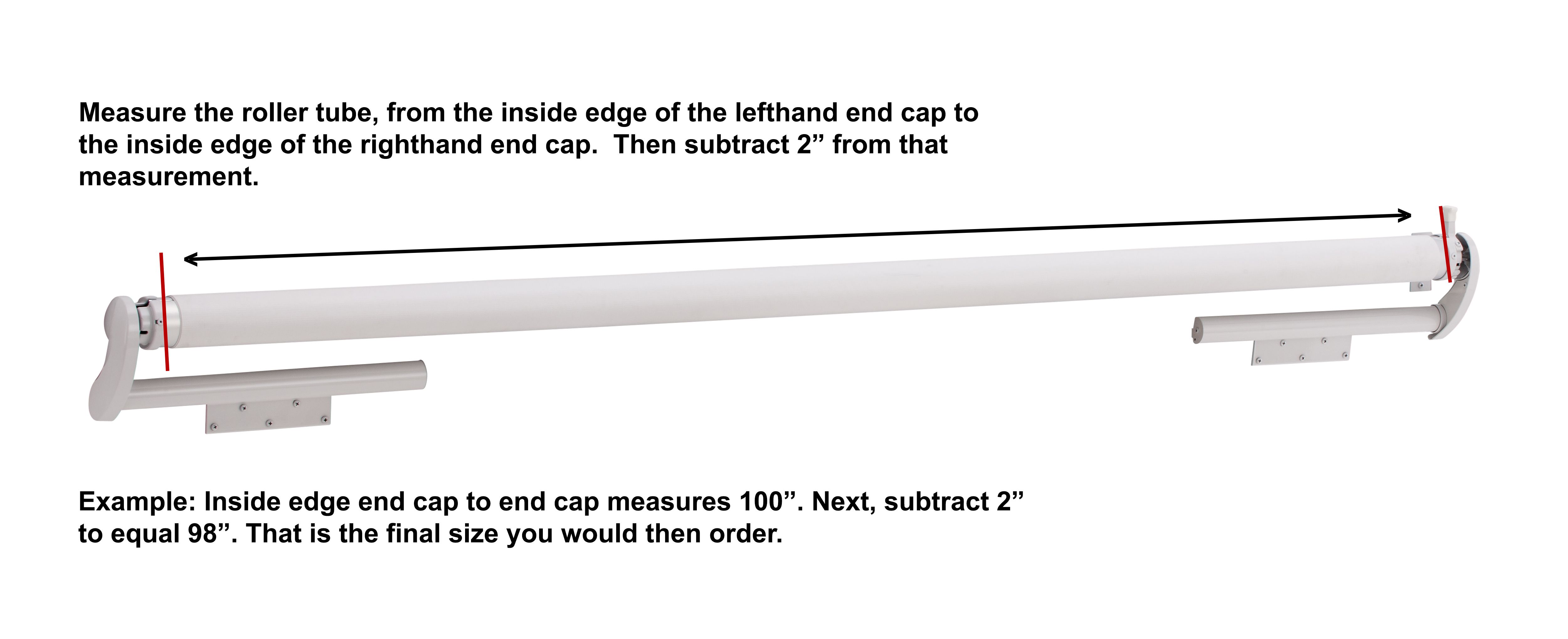 Non-Returnable/Non-Refundable
Due to the customized nature of this product, these cannot be modified, canceled, exchanged, returned, or refunded.
Please carefully check, then re-check your measurements and shipping information before you complete your order.
Once you place your order, the sale is final.  NO EXCEPTIONS!