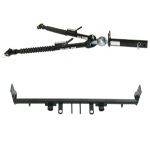 Tow bars and baseplates are great for hauling smaller loads of 5-10,000 pounds or less with your RV. They are specifically designed for towing a car or other vehicle behind your RV. Most tow bars by BlueOx, Roadmaster and Demco easily come off of the RV and baseplate of the vehicle being towed and can be stored in the trunk. These are good, relatively inexpensive options for people who only need to tow a car behind their RV.
A baseplate is necessary as an attachment point for the tow bars. Baseplates by BlueOx, Roadmaster and Demco easily attach to the front of the car. You'll want to be very careful when placing your baseplate order to make sure that you get the baseplate that has been especially designed for use with the specific car or vehicle that you intend to be hauling behind your RV. Tow bars and baseplates are easy and convenient to use. They allow for easy hook up of a car behind an RV and easy detachment when you park the RV.
See our tow bar and baseplate pages for pricing, comparisons, and product reviews.