Estimated Shipping Time
The Economy Shipping (ETA 2 to 5 business days) on our website is an ESTIMATED Time of Arrival based on when your order leaves the warehouse. For example if you place your order on a Saturday when we are closed and it gets processed and packaged on Monday and then ships out on Tuesday, then the 2 to 5 business days shipping time begins the day after it is picked up from the warehouse, which would be Wednesday for this scenario. Our ETA is in accordance with USPS, UPS, and FedEx to give our customer's an accurate delivery time line.
A majority of our products are in stock and will ship within 24-48 business hours. We carry other items though that are marked as Special Order or have a specific lead time noted on the "Additional Information" section of each product or towards the top of the product page which usually means it will not ship out immediately. Unfortunately, hard to find parts and uncommon products are not always kept on hand and are only made-to-order per the manufacturer so that is why some items have a longer lead time to ship out than the standard 24-48 business hours for in stock products.
If you are needing your order quickly then please reach out to us through our Contact Us page, email us, or call us during office hours with your shipping address and the item #'s you are planning to order to verify approximately when your order will be able to ship out prior to placing your order. We will respond as promptly as possible during our Office Hours .
The Economy Shipping (ETA 2 to 5 business days) does NOT apply to LTL Freight shipments because LTL Freight carriers have no way to expedite shipments, travel at a slower rate, and also have to coordinate a scheduled delivery with the customer when a time slot is available in the customer's area. We cannot guarantee a delivery within 5 business days due to those restrictions. For a better time estimate on LTL Freight shipments, we recommend allowing at least 2 weeks for you to receive your LTL Freight shipment to allow plenty of time for the carrier to schedule a delivery with you.
NOTE: The Economy Shipping and LTL Freight Shipping does NOT apply to any orders shipping to Hawaii, Alaska, or any U.S. territories. You will require a shipping quote for any of these locations and our representatives can provide an Estimated Time of Arrival for you. Please see the section below titled "Shipping Rates" for more information.
LTL Truck Freight Items
Some items on Dyersonline.com, due to the size and or weight, must ship via LTL (Less-Than-Truckload) Freight. These items will have a LTL Freight Shipping logo on the product and a different shipping charge unless the item is marked as "Free Shipping". The LTL Freight charge and Free Shipping is only eligible for items that are shipped within in the lower contiguous 48 states.
You must provide a primary phone number that the LTL Freight company can reach you at when you place your order. The carrier will contact you at that phone number when the shipment gets to the terminal that is closest to you to schedule an appointment time and date window to make the delivery. Please be available on the phone number that you left on your order and return any messages as soon as possible if you miss their call. They will only hold your order in their facility for a limited number of hours and/or days (depending on the carrier's policies) if no contact is made or no return call is received. If you are not available or not present during the appointed date/time arranged for delivery, you will be responsible for any re-delivery fees charged by the trucking company. If the shipment gets returned to sender, you will be responsible for any return shipping fees which will be automatically deducted from your refund as well as any necessary restocking fees.
Due to multiple factors, we are not able to provide you with the name of the trucking company prior to you placing an order with us that has to ship via LTL Freight. Our warehouses utilize a series of different trucking companies due to the origin of a shipment, destination of a shipment, size of a shipment, truck availability, environmental factors, etc. Therefore we are not able to provide you with the name of the trucking company, an estimated delivery timeframe, or any information on the availability of any additional delivery services (some delivery services may incur additional charges which are the sole responsibility of the customer and are not covered by DyersOnline.com) until the shipment has left our warehouse and has been entered into our database and/or the trucking company's database.
Truck drivers are subject to a number of regulations, one of which is that they are not required/permitted to assist with unloading. Freight deliveries are made at curbside, and your merchandise is moved to the back of the truck. YOU ARE RESPONSIBLE FOR UNLOADING! You may need to have some friends available to help you unload your merchandise, or prior to placing your order, get permission first to have this shipped to an address that will safely assist you with unloading your shipment (for example: your RV dealership or your RV service center). Please plan accordingly. This is a nationwide policy, it is not limited to certain carriers.
Any changes to your shipping address after your order has been placed will incur additional shipping charges of any amount even if your order has "Free Shipping" on it, this is a mandatory policy that is enforced by all shipping companies. PLEASE make sure your shipping address is correct and can receive LTL Freight deliveries BEFORE you place your order. You will be responsible for any additional shipping charges, or they will be deducted from your refund along with any applicable restocking/original shipping fees.
Most LTL Freight trucks have lift gates on them already but it is NOT guaranteed the truck that makes your delivery will have one. Some terminals have lift gate options available should you need one. If you require a lift gate, please notify the trucking company when you schedule your delivery appointment. The lift gate service is sometimes an additional cost and you will be responsible for paying the trucking company for this additional service. We do not make any guarantees and/or promises on the pricing or availability of any lift gate services.
Checklist for When You Receive Your LTL Freight Order
- Please inspect all items BEFORE accepting them from the delivery company. If anything is damaged, refuse the items that are damaged and accept the one's that are not.
If you are not sure if there is concealed damaged to the other items on your order, refuse the ENTIRE order and call us to let us know. Make sure the truck driver marks
the items that are damaged as "damaged" on the BOL, if that is not done it will take longer to get a reorder approved for you.
- Make sure that the number of packages on your Bill of Lading matches how many packages you are accepting.
&nbsp
Please follow the below instructions based on the condition of the items and packaging.
GOOD: If your order arrives in good condition, please sign, accept and enjoy your new parts!
BAD: If your order arrives with obvious physical damaged then please make notes on the delivery paperwork that it is damaged, refuse the shipment (do not accept the shipment from the driver) and notify Dyer's immediately. DO NOT SIGN FOR AND ACCEPT A PHYSICALLY DAMAGED PRODUCT.
UNSURE: If the packaging is damaged but there is no obvious physical damage to the product(s), please note the condition of the boxes/shipment on the paperwork before signing. If you have the ability, please take photos documenting the condition of the shipment before it comes off the truck. We ask that you do this because if you accept a delivery and report damage AFTER signing for it then the trucking company will need proof that there was any sort of damage caused by their company to approve a damaged claim.
Items that are received damaged with no notes cannot be later claimed as "concealed damage" as there is no way for us to prove to the carrier that the damage occurred during their possession before the delivery was made. IF YOU ACCEPT AND SIGN FOR A SUSPECTED DAMAGED SHIPMENT WITH NO NOTES ON THE DELIVERY PAPERWORK, THERE IS NOTHING WE CAN DO. YOU WILL BE RESPONSIBLE FOR FILING A DAMAGE CLAIM WITH THE CARRIER.
Standard Ground Shipments (USPS, UPS, FedEx)
We have several warehouses and manufacturer's that use different shipping carriers. If you are needing to know how an item will ship please contact us at 623-266-3022 or email us at support@dyersonline.com with the item #'s you are needing to order and with your zip code. If an item ships USPS, it will ship via Priority Mail and has a lead time of 2-3 business days for delivery after the day it ships out from the warehouse according to USPS. If an item ships UPS or FedEx then the standard shipping has a lead time of 2-5 business days for delivery starting after the day it ships out from the warehouse according to UPS and FedEx. You will be emailed a tracking number for any of these carriers so you can track your order.
When You Receive Your Order
Please inspect all items upon delivery or shortly after the delivery. If you are present at the time of delivery and an item arrives damaged please refuse the item (do not accept the shipment from the driver) and call us at 623-266-3022 for a return immediately.
If you are not present during the delivery please inspect the items at your earliest opportunity and notify Dyer's of any damage. We will request photos of the damage to the product and to the shipping parcel. You have 7 days from the delivery date to notify Dyer's of products damaged in transit.
International Shipping
At this time we can only ship within the United States. If you have a U.S. shipping address we can ship your order there but to fill out the billing information with an international address you will need to call us to place your order. This includes any freight forwarding companies that are located within the United States. We can place an order for you and have it shipped to the freight forwarding company of your choice as long as you make arrangements with the freight forwarding company prior to placing your order. You will be responsible for the package after it is delivered to the freight forwarding company and you will have to pay any additional costs they charge.
Dyer's will NOT be liable for any damage after the freight forwarding company ships the order to your forwarding address. You will need to advise the freight forwarding company to refuse the delivery if they receive the package and there is noticeable damage. This also applies to any other alternate address (i.e. friends house, family member, place of business etc.) you have your order shipped to if it is NOT your current address. Although we can ship to freight forwarding companies within the United States, there are certain restrictions and limitations that could still prevent us from placing your order. Please call us for help.
Shipping Rates
Dyer's offers "Free Shipping" or "Flat Rate Shipping" on any orders. This does NOT include Special Order items that may require additional charges to order that product and have it shipped.
The "Free Shipping" or "Flat Rate Shipping" does NOT apply to Hawaii, Alaska, or any U.S. territories. Additional charges WILL be applied for those states. These charges are not shown on the website. You will need to call us at 623-266-3022 for a quote or email us at support@dyersonline.com with the item #'s you are ordering and your full shipping address. Our representatives will then get a shipping quote for you.
To determine the shipping amount, follow the instructions below:
Step 1: Add the item(s) your interested in to your cart.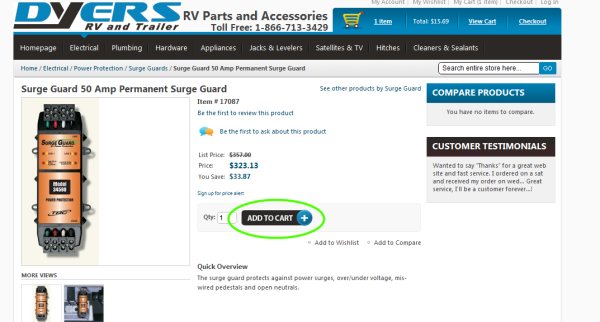 Step 2: Fill in your state and zip code and hit "Get Quote" to get a shipping qoute.