Winegard DISH Pathway X2 Fully Automatic Portable Satellite TV Antenna
This product has been discontinued.
We have discontinued this product permanently. Please find alternative products from below section.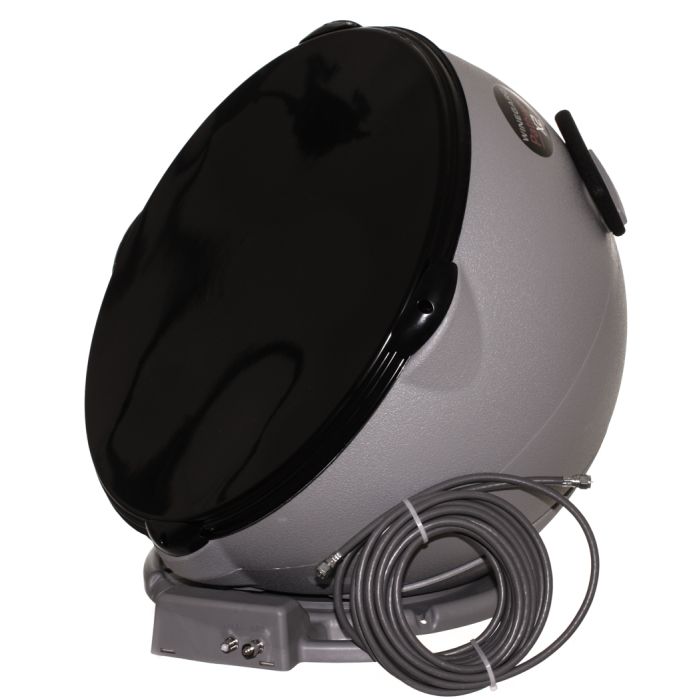 Winegard DISH Pathway X2 Fully Automatic Portable Satellite TV Antenna
The new Winegard Pathway X2 Portable Satellite TV Antenna is 100% automatic! Easy set-up, searches and acquires all DISH satellites, is powered through one coax cable and HD compatible for up to two receivers.
Description /
Winegard DISH Pathway X2 Fully Automatic Portable Satellite TV Antenna
We are proud to introduce the latest portable satellite from Winegard – the Pathway X2 Portable Satellite TV Antenna. Winegard has thought about you – their customer by making this portable satellite lighter, with more features!

The Pathway X2 is now powered by the receiver through the coax cable. No more hassle of finding a DC outlet or scouring RV parts stores to buy an AC converter. Plug in the coax cable into your receiver and you are ready to watch your favorite shows!

Do you want to watch a game or show, but the kids want to watch cartoons? No problem, the Winegard Pathway X2 is compatible with up to two receivers. A great addition for RVers who have more than one tv in their camper. The X2 can only receive one satellite signal at a time, both TV's can be watching different shows from the same satellite. You can also enjoy a crisp and clear stream of shows in HD when you have an HD compatible receiver, thanks to the new technology of the Pathway X2.

The Pathway X2 Portable Satellite TV Antenna is 100% fully automatic as it finds satellites from the Eastern Arc (61.5 degrees, 72.7 degrees, 77 degrees) and Western Arc orbitals (110 degrees, 119 degrees, 129 degrees).

The Pathway X2 is a carryout satellite dish, but it weighs only 16 pounds and is equipped with an easy grip handle to make moving and storing a piece of cake, because you want to be climbing rocks and hiking not lifting a heavy satellite dish for your workout.

Your new satellite dish will not sprout legs and run off because Winegard has added an eyelet on the base of the satellite dish allowing you to lock your unit to a nearby tree or picnic table for added security.

The Pathway X2 portable satellite is compatible with DISH receivers: ViP 211k, ViP 211z, and 411. Don't forget to add the Winegard Carryout Tripod Mount TR-1518 to keep your new Pathway X2 portable satellite stable and off the ground.

If you have more questions – don't worry – we have included the owner's manual and product brochure. At Dyers we are here to help you!


*This item is NON-RETURNABLE*
- In the unlikely event you receive a defective unit, it will be repaired/replaced by the manufacturer.
- For help, email help@winegard.com or call 1-800-788-4417
- Do not return antenna to place of purchase
More Information
Item #
84001
Brand
Winegard
Model
PA-6002
Fits
Compatible with DISH receivers: ViP 211k, ViP 211z, ViP 211 and 411 Solo HD (certain models may require software updating before they are compatible with the Pathway X2)
Service Provider
DISH®
Type
Stationary
Power Requirement
(Powered by receiver)
Receives
Programming from satellites: 110°, 119°, 129° or 61.5°, 72.7°, 77°
Satellite Viewing
1 *Multiple receivers must watch programming from the same satellite, Pathway X2 antenna receives programming from 1 satellite at a time and moves between satellites as needed.
Stow Height
15"
Color
Gray
Features
Stationary use
Easy grip handle for effortless carrying
Eyelet on base provides ability to lock-up antenna for added security
Equipped with 2 coax outputs ports
Works with your current DISH subscription
No contract required with Pay-as-you-go option
Included
In The Box
PA-6002 Pathway X2
Easy-Grip Handle
25' Coax Cable
(Powered by receiver)
Printed Documentation

Dimensions
21" diameter, 15" stowed height, 20.75" fully deployed height
Warranty
2 Years Parts, 1 Year Labor Warranty
Made in
USA
Net Weight
16
Gross Weight
23.60
Special Order Item
No
UPC
50615798401486
LTL Freight
No
We found other products you might like!
Customer Reviews
Better than Tailgater
I also have a Railgater, the second one. The first one didn't last but a short time before the motor died. It is flimsy junk compared to the Pathway X2. The best thing about the X2 is it's ability to receive the Eastern arc satellites, which means that all programming except for some local channels is on one satellite, 72.7. This means that the X2 doesn't have to motor to a different satellite constantly (as with western arc satellites) . This makes operating 2 TVs viable, unlike the tailgater which can only work with one TV. Another advantage of the X2 is it's large dish which gives a strong signal. The tailgater provides a weak signal which dies even in a little sprinkle. The X2 also acquires a signal in far less time than the tailgater.

While I haven't had the X2 long enough to judge it's reliability, I expect it to last quite awhile. The only disadvantage of the X2 is that it's relatively big and heavy, which is a small tradeoff to make for it's performance. I strongly recommend buying the overpriced tripod to keep the X2 from blowing away or drowning.
Excellent Product
I have a roof mounted Winegard antenna on my RV and I have spent at least 10 hours "practicing" with it. I was able to get a weak signal for a second but when I tried to get a stronger signal, I lost it altogether. With the X2 I just plug it in and withing a minute or two, I have a strong signal. One word of advice: get the adjustable tripod. I take my RV up snowboarding and without the tripod my dish would be sitting in the water and mud. Also, the X2 has to be level. you don't need a bubble level or anything, eyeballing it is fine. Having the adjustable tripod will help you get it level and then it will work like a charm.

When people see it acquiring a signal they always ask what it is. It looks like I'm tracking inbound missiles or something. Pretty cool.