TST 6 Sensor Flow Through Tire Pressure System w/ Repeater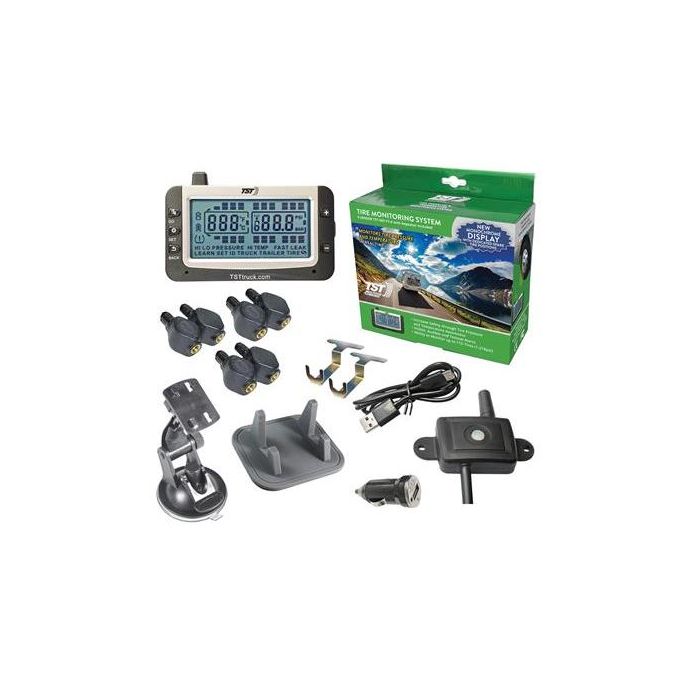 TST 6 Sensor Flow Through Tire Pressure System w/ Repeater
TST 507 Flow Thru RV reports pressure and temp.
Description /
TST 6 Sensor Flow Through Tire Pressure System w/ Repeater
The sensors will auto code to the monitor, (no manually inputting the code off the sensor into the monitor) They also feature the ability to add or remove air to the tire without removing the sensor, they have a port on the sensor to do so.

- Our system display is built more durable and comes with 2 mounting options (suction cup mount and flat mount dash cradle.
- Our system can be hard wired or plugged into a 12 volt (aka cigarette lighter, both application come with the kit)
- Powered by user replaceable batteries (CR-1632)
More Information
Item #
84496
Brand
TST Trucking Systems
Model
TST-507-FT-6
Replaces
507TPMSFT6
Color
Black
Features
TST systems have a range from 0-175PSI.
Accurate to within 1%.
The system reports while stationary or in motion and will monitor up to 38 tires.
1 year sensor battery life.
Real time display or tire pressure and temperatures.
User adjustable high and low pressure alarms.
The sensors are light, compact and water resistant.
External sensors for easy installation.
Included
(1) Monitor
(6) Flow Thru Sensors with caps
(1) Suction Cup Window Mount Kit
(1) Dash Mount Cradle
(1) 12V Cigarette Plug
(1) 12V Hardwire Pigtail
(1) 507 Repeater
Instructions
Dimensions
Display Monitor: 3-1/2" L x 2-3/8" W x 7/8" Thick (4-1/8" L with antenna)
Warranty
Limited 3 Year Warranty
Special Order Item
No
UPC
850492008103
LTL Freight
No
Customer Reviews
A must have. worth every penny
This is my second TST 507 system with the flow thru sensors. The first system I bought was for my Dually truck. Then i bought the second system for my 5th wheel camper. I monitor the pressure and temperature of all my tires. One of the most important and also most neglected thing on a vehicle is tire pressure. Now I know all the pressures in all my tires every time I get in my truck. That piece of mind is worth every penny I spent. No more checking tires with a gauge once in a blue moon or when you get a flat.
A good reliable product.
I have a 33' 5th wheel towed behind a 2500HD pickup. After blowing a tire and doing $1800 worth of damage to my trailer i purchased this TPM system. I had to have a tire shop install metal tire pressure valve stems. The weight of the pressure monitors on the rotating tire will damage the standard rubber valve stems. Once installed I had problems where the receiver was not picking up the tire transmitters reliably and I thought I was going to have to buy a signal booster. I discovered that when I kept the receiver plugged into the 12V system it always worked. I have had it for 2 years now. I take the monitors off the tires when the trailer is in storage to save on the batteries. It has always worked well as long as I keep it plugged into the 12V system.
Good to have the TST Tire Pressure Monitor System
We pull a fifth wheel with our 3500 HD diesel. Due to the weight of the truck it does not have an internal tire pressure monitoring system. It is nice to rely on the TST sensors to monitor the truck tires and fifth wheel tires on the same monitor. Easy to set up and install. I did reach out to the mfg and they provided excellent customer service.