PullRite Traditional Series SuperRail 16K & 20K Mounting Kit for 2004-2014 Ford F150 Trucks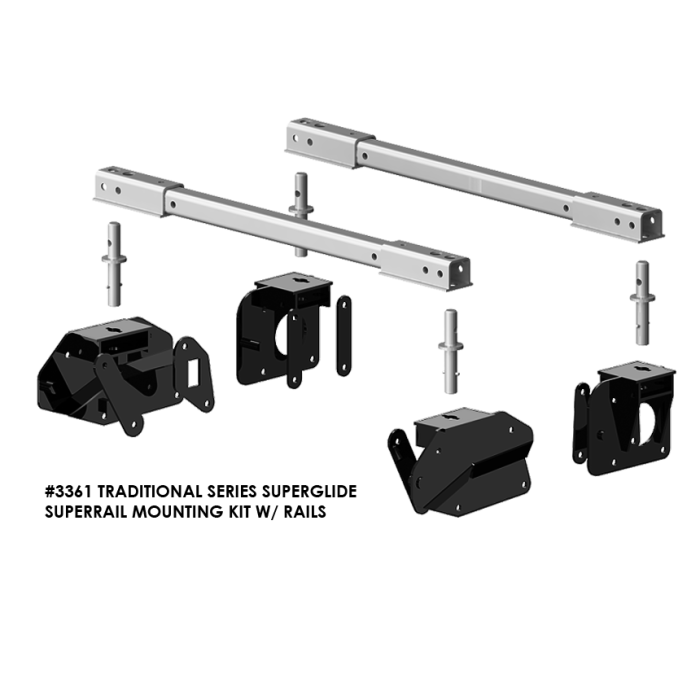 PullRite Traditional Series SuperRail 16K & 20K Mounting Kit for 2004-2014 Ford F150 Trucks
Traditional Series SuperRail mounting bracket & rail kit with Clean Bed Technology (CBT) for the 2004-2014 Ford F150 trucks (6-1/2' bed) with the PullRite SuperGlide 4100 or 4400 hitch.
Return Policy
Non-Returnable/Non-Refundable
Special Order - Ships Direct From Manufacturer
Description /
PullRite Traditional Series SuperRail 16K & 20K Mounting Kit for 2004-2014 Ford F150 Trucks
PullRite's SuperRail Mounting Kits feature PullRite's patented Clean Bed Technology (CBT). This design gives you full use of your truck bed when the hitch is not in use! No longer are you stuck trying to work around your fifth wheel hitch's permanently mounted rails. With PullRite's SuperRails simply unpin your hitch, unpin the rails, and give the mounting posts a twist! Everything lifts out, giving you a totally clean bed.
PullRite's engineers go through extensive testing and research so that most of the PullRite SuperRail Custom Mounting Kits also require very little to no drilling at all over other similar bracket kits on the market.
This custom designed mounting kit is made to fit your truck's basic make and model for a quicker install and requires minimal drilling.
***IF YOU HAVE ANY CUSTOMIZATIONS/FEATURES/MODIFICATIONS ON YOUR TRUCK THAT WILL INTEREFERE WITH THE INSTALLATION OF THIS PRODUCT PLEASE CALL PULLRITE DIRECTLY AT 1-800-443-2307 OR EMAIL THEM AT customerservice@pullrite.com TO SPEAK WITH A TECHNICIAN.***

Limitations / Notes From PullRite:
A towing system includes each vehicle and component involved in towing. Each item in your towing system has a capacity or weight rating. You trailer has a Gross Vehicle Weight Rating, or GVWR. Your truck has a tow capacity, payload capacity, and possibly more. In addition, your fifth wheel hitch has a weight rating. This weight rating must be at, or above, the GVWR of your trailer for you to tow safely. In addition, if your truck can tow larger loads (has a larger capacity) than the rating of your hitch, your system is only safe to tow loads at the lower rating, that of the hitch.
Your mounting kit also has a weight rating, just like your fifth wheel hitch. Many times, these rating are designed to match. But, this is not always the case. Your mounting kit may be higher rated then your fifth wheel hitch, but it also could be lower depending on the components involved. The lowest rating of any one component in the system becomes the rating of the entire system. If your mounting kit is rated to 18,000 lbs., and your hitch is rated at 24,000 lbs., the weight rating of the entire system will not be above 18,000 lbs. Other components in the system could lower the actual system rating further.
It is the end users responsibility to ensure a safe towing experience. To this end, it is your responsibility to ensure that the truck, trailer, hitching components, and all other items involved are rated or have a capacity sufficient for the loads involved.
More Information
Item #
60099
Brand
PullRite
Series
Traditional SuperRail Series
Model
3361
Replaces
PullRite's SuperGlide #4100 and #4400 SuperGlide Hitch
Truck Compatibility

2004-2014 Ford F150 Trucks (6-1/2' bed)

Color
Black
Features
Fully Removable Rails w/ PullRite's Patented 'Clean Bed' Technology
Powder Coated Finish
Easy To Install
Drilling Required
✓ SAE J2638 Testing: Passed and Exceeded
*See our "Documents" Section below for information on the Gross Trailer Weight & Vertical Load Weight of this kit in use with each compatible hitch model.*
Included
(4) Brackets
(2) SuperRails
Installation Hardware & Instructions
Warranty
Limited 5 Year Manufacturer Warranty
Made in
USA
Special Order Item
Yes
Return Policy
Non-Returnable/Non-Refundable
UPC
816456010155
LTL Freight
No
Customer Reviews
Great item, apparently hard to deliver
The packaging arrived in a very beat up cardboard box, with clear packing tape providing at least 50% of the support. Luckily the critical mounting bracket parts were still inside the box. I did however have to go purchase a few of the hardware parts that presumably were lost. The included parts were significantly scratched, but since nobody would see them once installed, that is not the worst thing that could have happened.
I installed the hitch mounting brackets, posts and rails in about a day. It was relatively painless, except for a few items.
First, on the 2013 F150, the spare tire shield needs to be removed. Also, the passenger side rear bracket needs to be installed after you remove the exhaust mount. The exhaust mount can be 'forced' back into its screw holes once the brackets are on.

I've hauled my 5th wheel over 2000 miles now, and everything is very nice.
thanks
joe
WARNING: This product can expose you to chemicals, which is known to the State of California to cause cancer. For more information, go to
www.P65Warnings.ca.gov
.