PullRite 16K SuperGlide 5th Wheel Hitch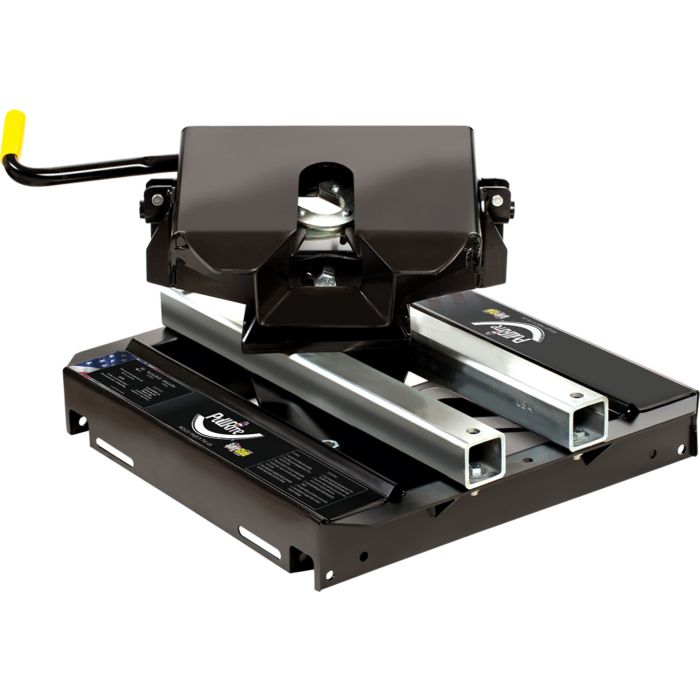 PullRite 16K SuperGlide 5th Wheel Hitch
The 16k SuperGlide hitch is made for short bed trucks, equipped with an automatic sliding feature that keeps the trailer away from the truck cab as you turn. This hitch can slide up to 14" and will allow you to turn up to a full 90°.
Delivery Requirements
Appointment for Delivery & Signature Required - Must be 21 Years of Age or Older
Description /
PullRite 16K SuperGlide 5th Wheel Hitch
More Information
Item #
61677
Brand
PullRite
Series
SuperGlide
Model
4100
Hitch Type
Slider (For Short Truck Beds)
Rail Type
SuperGlide
Capacity
16K
Vertical Load (lbs)
4,000
Features
It moves up to 14" while turning
✓ SAE J2638 Testing: Passed and Exceeded
Included
Hitch only
*Requires mounting kit & capture plate for new installations

- Ships Fully Assembled!
Dimensions
Hitch head sits at a height of 15.5" tall.
Warranty
(5) years or 31,068 miles
Made in
USA
Net Weight
180
Special Order Item
No
Delivery Requirements
Appointment for Delivery & Signature Required - Must be 21 Years of Age or Older
UPC
816456010698
LTL Freight
Yes
Customer Reviews
Great Hitch
Works great! Don't have to get out and move a lever for cab clearance when tight turning.
Great Choice for a Sliding Hitch
Bought this hitch because I tow with a GMC 2500 with a short bed (6' 6"). It works perfectly. No worries about the camper hitting the back of the cab. Also smooth and quiet.
faulty hitch
This hitch slams the 5th wheel into the back of my truck. The only way to stop it from gliding is to completely lock the hitch so it does not glide. I called Dyers and wrote a poor review and they said someone would contact me but I have not received anything. I spent over a grand for this hitch and not impressed at all.
Good hitch
I had a 2005 model hitch - 15K rating previously. This hitch is rated 16K, but the frame seems a bit less than the old one. regardless, it has preformed flawlessly, but haven't really driven more than 20 miles.
The hitch dropped right in to the old mounts in the truck. My old hitch had 93,000 miles on it and was worn out. It made 'clunking' noises when starting up. The new hitch is quiet as a mouse and smooth on turns.
And of course the 'slider' feature which I take for granted is great.
Super splendid!! Works great!!
Great hitch, works as advertised and made towing and backing a breeze. Great service from Dyers.
Quick and easy
The shipping was fast only a couple of days. Installation was painless. Although its heavy managed to install it by my self in a short time. Works as stated very happy.
works great ! only way to go for a shortbox
works exactly as described with no effort on my part. great pricing at dyers too.
Pullrite does not disappoint
Towing with a 2011 F250 shortbed, I felt that this was the only way to go. Forgetting to slide a manual slider or risk hitting my cab with a stationary hitch were both issues I didn't want to deal with. I was expecting a lot of bumping, chucking and other hitch noise, but was pleasantly surprised that there wasn't much. After I left the dealer, I pulled into an empty parking lot and easily negotiated a 90+ degree turn. Very happy.
Great product and great service from Dyers. Fast delivery exceeded my expectations.
The hitch was damage in shipping and Dryers got right on it . On A Friday and by Tuesday had it picked up and by Friday had the new one.great service from Dyers
Great product
Perfect if you have a short bed truck. Works just like it says
Items 1 to 10 of 15 total
WARNING: This product can expose you to chemicals, which is known to the State of California to cause cancer. For more information, go to
www.P65Warnings.ca.gov
.