WFCO Universal 55 Amp Converter Replacement Kit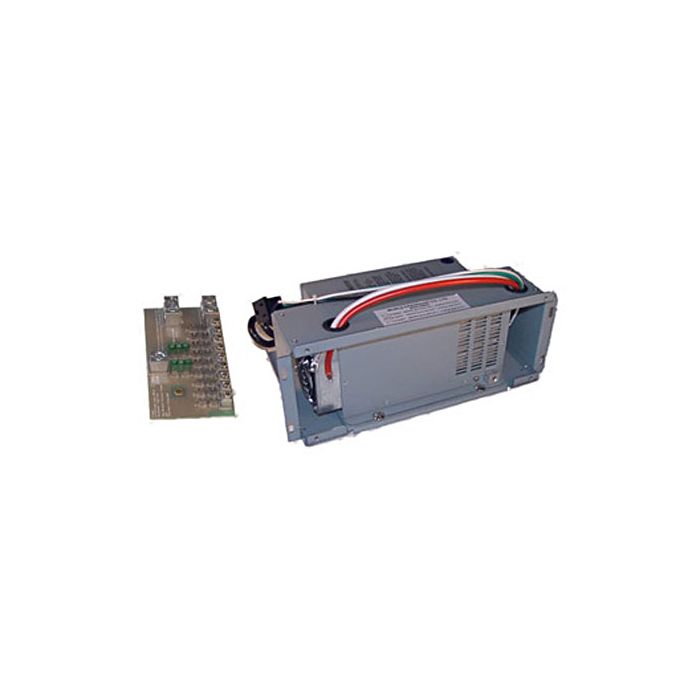 WFCO Universal 55 Amp Converter Replacement Kit
WF-8955REP models make it easy to replace certain brands of converters with removable converter section. Converter output 55 Amps DC, DC fuse board included.
Description /
WFCO Universal 55 Amp Converter Replacement Kit
he WF-8900REP Universal Converter Replacement Kit makes it easy to replace the removable lower converter section on certain brands of power centers. The kit consists of a WF-9800 Series Converter/Charger mounted into a metal
bracket to make installation easy. A new DC Fuse Board is also included.

The WF- 8900REP provides all of the WFCO's performance standards: quiet operation, filtered power, overload protection, short circuit protection and FCC Class B approval. Quiet operation is assured as the cooling fan only runs when needed. Automatic three stage battery charging maintains your battery's life with three nominal voltage output modes:13.2 Vdc range "float"mode, 13.6 Vdc range"absorption" mode and 14.4 Vdc range "bulk" mode. The converter is protected against over temperature and reverse battery connection.The WF- 8900REP is FCC Class B compliant.This means that the converter is deigned not to cause interference with televisions, radio or other signals.
More Information
Item #
17294
Brand
WFCO
Series
8900
Model
WF-8955REP
Style
Replacement
Input
105-130 VAC, 60 Hz
Output Amperage
55 Amp (Output Power: 950 W)
Features
Converter Type: Three-Stage Converter Charger
Voltage Output: 13.2 – 14.4V DC Range
Absorption Mode (Nominal Voltage): 13.6V DC (nominal voltage)
Bulk Mode (Quick Charging Voltage): 14.4V DC (quick charging voltage)
Float Mode (Trickle Charge Voltage): 13.2V DC (trickle charge voltage)
Over Current : Yes
Over Temperature: Yes
Over Voltage : Yes
Reverse Polarity: Yes
Short Circuit: Yes
Cooling System: Yes
Included
DC fuse board
Dimensions
12˝ wide; 4.75˝ high; 7.65˝ deep Kit size (with converter mounted in bracket)
Warranty
2 Year
Net Weight
10.25
Special Order Item
No
UPC
816227010278
Customer Reviews
Installed easily. Worked perfectoly.
Received promptly exactly as ordered.
well satisfied.
WARNING: This product can expose you to chemicals, which is known to the State of California to cause cancer and reproductive harm. For more information, go to
www.P65Warnings.ca.gov
.