Pure Essence Citrus Spice OUTHOUSE #2 Toilet Spray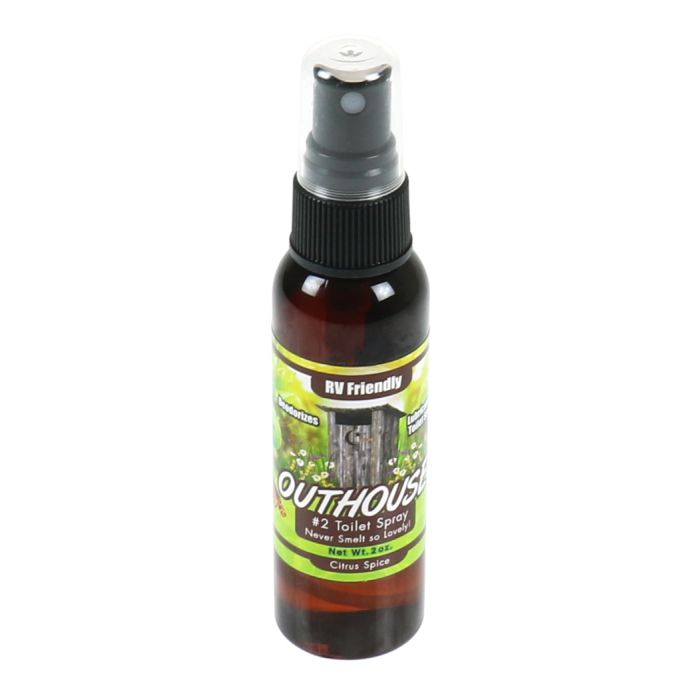 Pure Essence Citrus Spice OUTHOUSE #2 Toilet Spray
Introducing a New Product by Pure Essence "OUTHOUSE®", your #2 Toilet Spray. Spray 3-4 times in the toilet bowl before using. This will help prevent unwanted or embarrassing odors from filling your restroom and environment when you go #2.
Return Policy
Non-Returnable/Non-Refundable
Description /
Pure Essence Citrus Spice OUTHOUSE #2 Toilet Spray
OUTHOUSE® Citrus is a unique blend of citrus essential oils and fragrance oils that gives off a sweet fruity candy like smell.

OUTHOUSE® uses Fractionated Coconut oil with our unique essential and fragrance oil blends that has many great benefits such as: Lubricates Toilet Seals, disinfects, allows the scents to last longer, coats the toilet bowl that helps to prevent poo from sticking to the RV toilet bowl making it easier to clean and has a shelf life up to 60 months due to its anti-rancid properties.

- Fills your immediate environment with pleasant aromas due to our unique blends of essential and fragrance oils. OUTHOUSE® is paraben-free and phthalate-free making it safer for you and the environment.
- Helps prevent people from embarrassment whether you're at home, public restrooms, airplanes, and RV's due to #2 odor. OUTHOUSE® has got you covered.
- RV Toilet Friendly: Deodorizes the immediate environment whether you're going #2 or odors that come up from the holding tanks in RV's. Lubricates RV Toilet Seals due to our unique formula that contains Fractionated Coconut oil.


More Information
Item #
93536
Brand
Pure Essence
Model
OH4147
Replaces
OH9401
Features
Lubricates toilet seals due to the unique formula that contains fractionated coconut oil.
Safe for your plumbing and RV holding tanks.
Paraben-free and Phthalate-free.
Long lasting Scents.
Unique scents that are very pleasant to smell.
Convenient 2oz bottle size for easy travel.
Up to 100 uses using 4 sprays in every 2oz bottle.
Included
(1) 2oz. Bottle (Citrus Spice Scent)
Dimensions
Overall: 5-1/4" T x 1-3/16" Dia Bottle
Net Weight
.20
Gross Weight
.20
Special Order Item
No
Return Policy
Non-Returnable/Non-Refundable
UPC
606682799425
LTL Freight
No