Hughes Autoformer 30 Amp Voltage Regulator with Advanced Surge Protection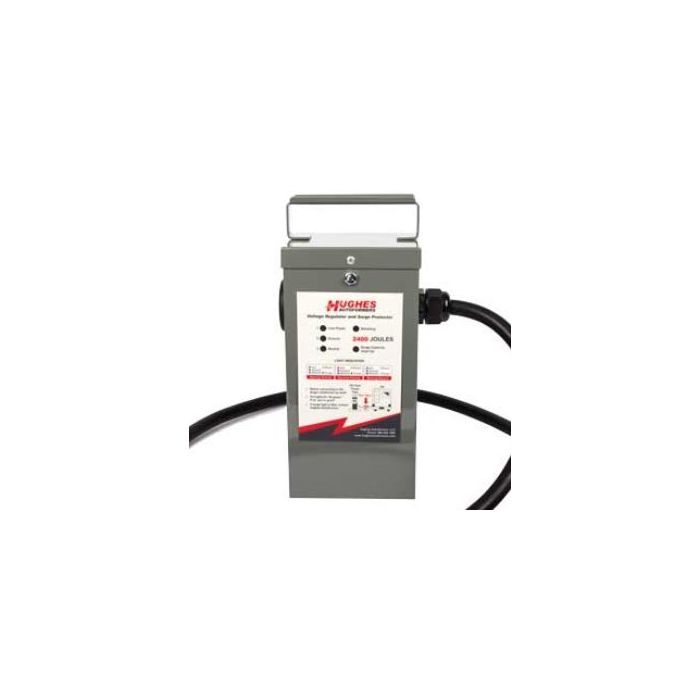 Hughes Autoformer 30 Amp Voltage Regulator with Advanced Surge Protection
Don't get caught with your voltage down! Protect yourself from low voltage damage by boosting the park voltage to your RV!
Description /
Hughes Autoformer 30 Amp Voltage Regulator with Advanced Surge Protection
Introducing the World's Only "All-in-One" RV Power Solution.

The legendary, original, and patented RV voltage booster, now with the world's most advanced surge protection.

The all new Hughes Autoformer RV2130SP has the same performance and reliability of the RV2130 now with advanced surge protection in one package. The surge / spike protection unit is also replaceable. In the event of a massive spike, the surge unit will take the hit ensuring your booster and more importantly, your RV stays safe.

The Hughes Autoformer is the only U.S patented Voltage boosting solution available today. All others are imitations.

Autoformer provides protection from low voltage damage by boosting the park voltage to your RV! "Sense" circuit automatically turns the 10% boost on when the park power is less than 117 volts and turns it off when the park power reaches 118 volts. Built in grounding continuity test offers protection against damage from open ground, open neutral or reverse polarity - if the light isn't on, do not use the power source.

More Information
Item #
92324
Brand
Hughes Autoformers
Model
RV2130SP
Replaces
RV2130
Amperage
30 Amp
Features
- 30 Amp – 3,600 Watts capacity
- Fully automatic 10% boost when needed
- Complete LED Park Power Diagnostics
- Boost indicator light
- 4800 Joules of Advanced Surge Protection Built-in
- Replaceable Surge Protection Unit
- Voltage Booster & Surge Protection in One Package
- Two-year limited warranty
- Made in U.S.A.

- Compatibility: Boost At A Park Voltage Measuring Less Than 113 Volts And To Go To Bypass Above 115 Volts
- Operating Voltage: 113 To 115 Volts
Dimensions
12"H x 5 ½" W x 5½" D
Warranty
2 Year Limited Warranty
Made in
USA
Net Weight
21
Special Order Item
No
UPC
683586021302
Customer Reviews
No problems for a one time use.
I have only used it once for three days. I cannot give a firm or accurate review at this time although we had no issues with electricity.