Gary Manufacturing Custom Wall Mount Curtains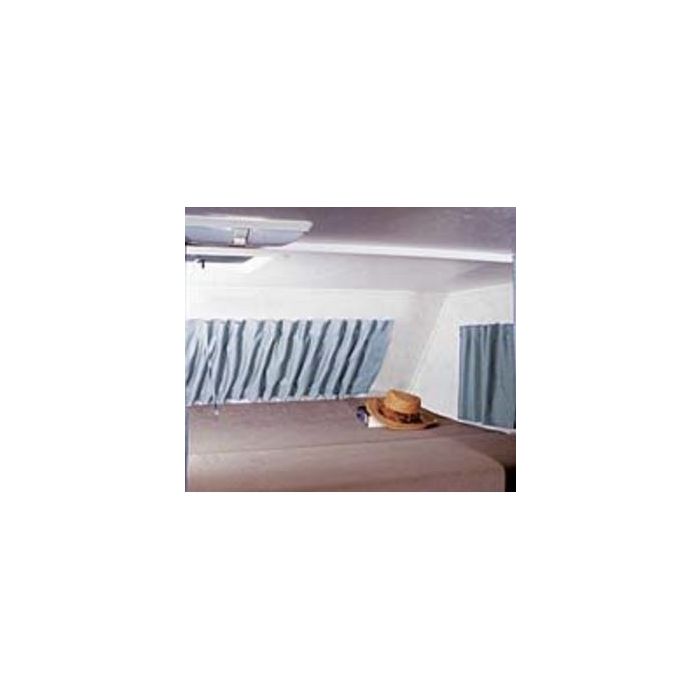 Gary Manufacturing Custom Wall Mount Curtains
Custom made-to-order wall mount window curtains for your RV available in 6 beautiful different colors. *Price will change after selecting your options* SEE "DETAILS" SECTION FOR INSTRUCTIONS.
Return Policy
Non-Returnable/Non-Refundable
Custom Order - Ships Direct From Manufacturer - ETA 4+ Weeks
Description /
Gary Manufacturing Custom Wall Mount Curtains
Wall Mount Curtains are most commonly used to cover the windows on the inside of your RV.  When you're staying only a feet away from other neighbors at RV campgrounds, the more privacy, the better!  Plus, your sleep is important, no one wants to be woken up by the harsh sun shining brightly through your RV at the crack of dawn.  
These curtains are flat with no pleats and are always made in pairs (2 panels, split equally down the middle) that equal the total width of the measurement on your order.  One set of tiebacks is included, and one piece of wall mount track is provided with each set of curtains with the option of adding on a bottom track.  This is great for windows that are at an angle or if you want to make sure your curtains are completely secured to your wall.  
The #9 - 1/2" Glide Tape will be sewn into the top of your curtains (and the bottom if you add a bottom track to your order) that will work hand in hand with the track that is provided with your order.  To make sure your track is long enough to properly cover your windows with your new custom curtains, measure the space you want to cover, not the window itself.  
With 6 different colors to choose from, the Turin fabric is a faux silk design woven out of 100% polyester, and is intrinsically fire retardant.  The supple, rich sheen projects an eye catching affordable elegance.  Terra based neutrals and a novel bank of colors, highlight this innovative faux silk.  It also passes the MVSS-302 fire retardant test.  The curtains are then backed with a room-darkening white liner which is a polyester-cotton blend.
Coach Coordinates by Gary Manufacturing is based out of National City, California and has been a partner of Dyer's RV for many years now. For over 50 years they have provided excellent craftsmanship and incredible customer service.  You can be sure your custom RV curtains will not only hang nicely but also be top quality.
We've made ordering curtains as easy as it gets! Take a look below for our step by step instructions. Pricing is based off of your measurements and add-ons so the starting price at the top of this page will change once you fill out the order form.
HOW TO MEASURE AND PLACE AN ORDER:
STEP 1: Choose your color. More photos of each color can be found above by scrolling through all of the pictures on this product. Color can be distorted slightly depending on different monitors/screens you may be viewing this product on.  CLICK HERE to order FREE fabric samples. 

Measurements should be given as width (side to side) by length (top to bottom) in inches. 
STEP 2: Select your size.  First, measure the size space you want to cover from side to side, this is your curtain width.  Next, measure the space you want to cover from top to bottom, this is your curtain length.  Do not select your actual window size, instead give the width and length you want your curtains to cover. 
STEP 3: Select "Yes" if you want to add a bottom track to your set of curtains, this meaning you will receive TWO curtain tracks and the glide tape will be sewn into the top and bottom of your curtains.  Select "No" if you do not want to add a bottom track to your set of curtains, this meaning you will only receive ONE curtain track and the glide tape will only be sewn into the top of your curtains allowing the bottom of your curtains to hang freely. 
STEP 4: Select the number of additional tie-backs needed.  You will receive 2 tie-backs total per each set of window curtains you order.  If that is enough, then please select "No - the 2 included is enough". 
REVIEW YOUR SELECTIONS AND MEASUREMENTS CAREFULLY AND THEN CLICK ADD TO CART.
Special Note: These curtains are made with the #9 - 1/2" Glide Tape Carrier (see below) sewn into the curtains.  You will receive a new ceiling mount track with your purchase that is made to work specifically with the #9 Glide Tape.  If you select YES that you do want to add a bottom track to your order, then this will also be used for the bottom track as well.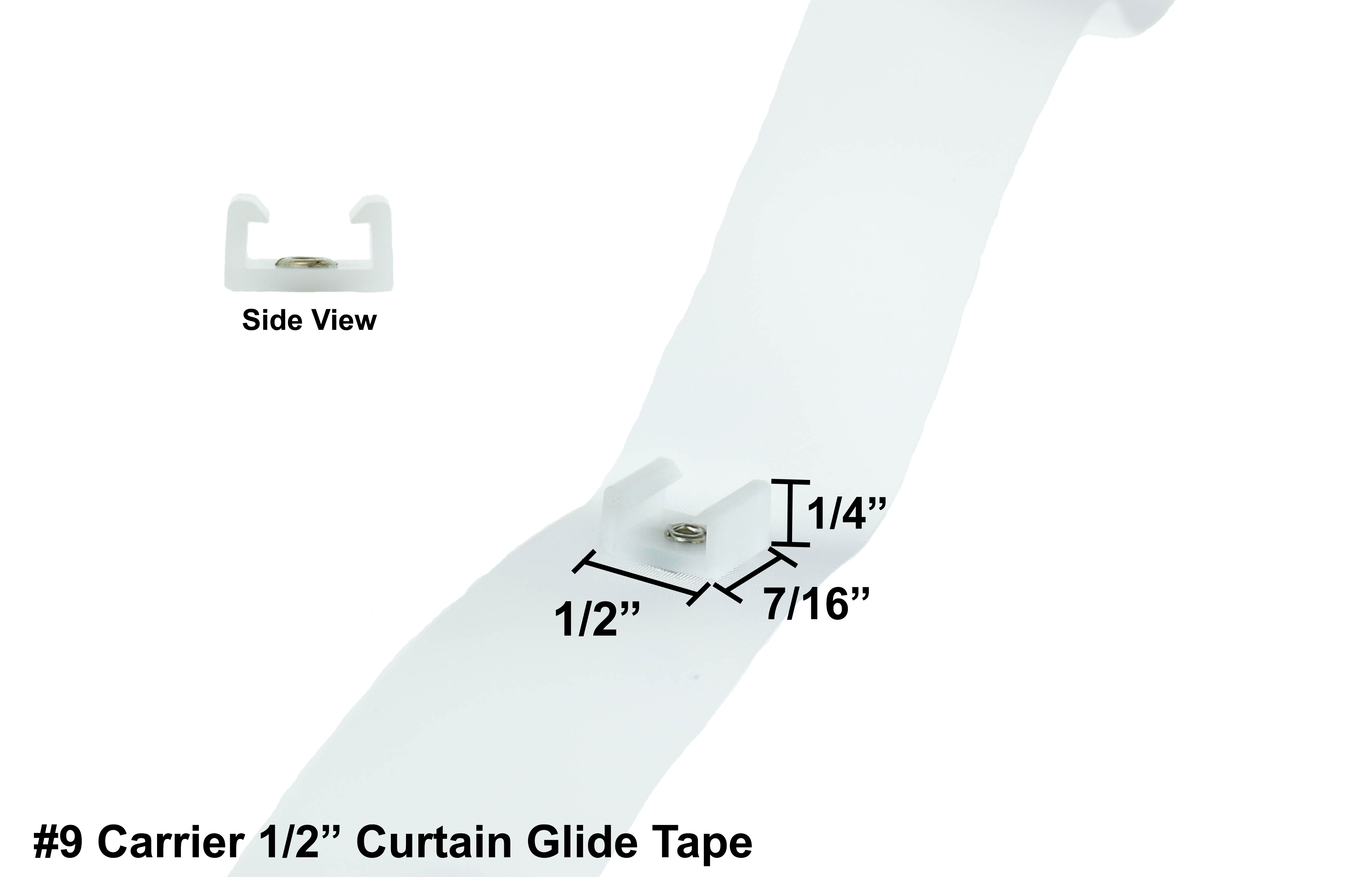 *This item is NON-RETURNABLE and NON-REFUNDABLE*
- Due to the extreme custom nature/personalized manufacturing of this item, these cannot be modified, canceled, exchanged, returned, or refunded. 
- Once you place your order, you own them.  NO EXCEPTIONS!
- Please carefully check, then re-check your measurements and shipping information before you complete your order. 
*ALL DRAPE ORDERS SHIP VIA UPS SIGNATURE REQUIRED SHIPPING - 21 YEARS OR OLDER SIGNATURE REQUIRED FOR DELIVERY*
More Information
Item #
GMCWMC
Brand
Gary Manufacturing
Fits
Custom application, you design this product to fit your specific needs.
Features
Manufacturer adds material for fullness and a richer appearance.
Separate lining material provides superior privacy, light control and insulation.
Matching tie-backs, sewn-in glide tape carrier, and wall mount curtain track are included.
Optional bottom wall mount curtain track.
Lined with a Therma-foam, room-darkening liner which is 70% Polyester - 30% Cotton.
Made from 100% Polyester Turin fabric, a faux silk fabric that has passed the MVSS-302 fire retardant test.
Dry Clean Only!
Included
One Pair of Wall Curtains custom made to YOUR measurements!
Two tie-backs are included per set of curtains.
One piece of wall mount track is provided; two if you add the bottom track option.
Dimensions
Wall Curtains are made in pairs (2 panels that meet in the middle) ranging from 0 - 96" Wide and 0 - 42" Long.
Made in
USA
Special Order Item
Yes
Return Policy
Non-Returnable/Non-Refundable
LTL Freight
No
Customer Reviews
Pleased with service and quality
We were very pleased with the excellent service we received; our questions were answered thoroughly. The delivery was on time. The quality of the material and sewing exceeded our hopes. We are thrilled with the product.
Ripped off
Not what was ordered very expensive poor quality
Would like to see reviews
Before ordering I was wondering if there are any "reviews" that I could read.