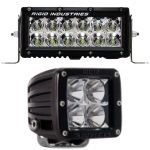 Hybrid Optics - Our patented Hybrid optics system is the most powerful, most efficient LED optics system on the market. Utilizing a combination of lens and reflector, the Hybrid optics system captures the maximum amount of light emitted from the LED and projects it exactly where you want it.
20º Flood Pattern - The Flood version of our Hybrid optics system is a great option if you're looking for a good area light. While offering just over half the distance of a Spot light, the Flood provides twice the area coverage. The Flood is perfect for those looking for an area light at an affordable price.

Diffusion Lens - Perfect for scene or area lighting, our diffusion lens was specifically engineered to project light at a 60º flood pattern. Combine that with our patented optics and you have the best LED flood light in the industry.