Carefree Universal Replacement PREMIUM Vinyl Awning Fabric for 14' - 21' Awnings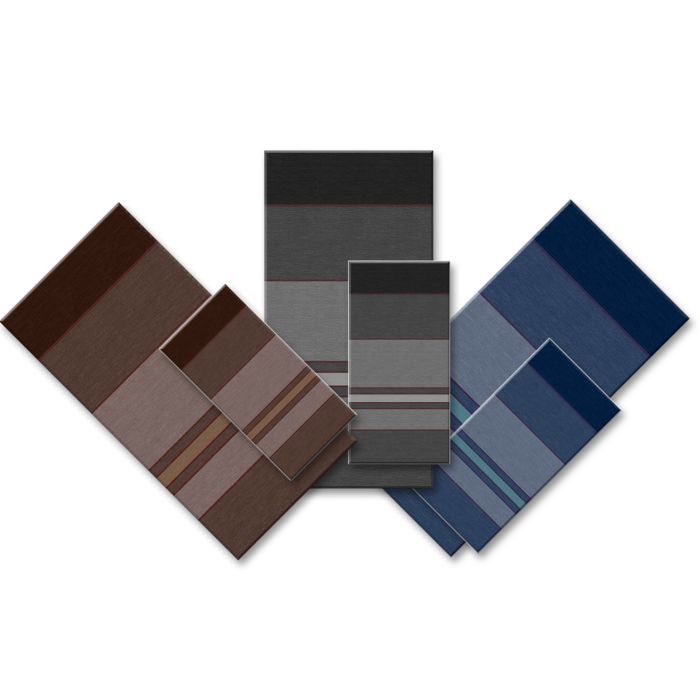 Carefree Universal Replacement PREMIUM Vinyl Awning Fabric for 14' - 21' Awnings
Universal replacement PREMIUM vinyl fabric available in 3 different colors & Weatherguards for overall awning sizes of 14' to 21' lengths with an 8' projection. Made by Carefree of Colorado but also fits most Dometic (A&E) and Solera (Lippert) awnings.
Item #
C-P-Replacement Fabrics
Return Policy
Non-Returnable/Non-Refundable
Description /
Carefree Universal Replacement PREMIUM Vinyl Awning Fabric for 14' - 21' Awnings
Replace or update your old and worn out awning fabric with Carefree's universal PREMIUM vinyl awning fabric made for standard-sized patio awnings. With multiple colors and sizes, Carefree goes above and beyond with their replacement vinyl fabrics. You can have your pick of a Standard White Vinyl Weatherguard, or a White or Black FLXguard for a little extra protection. The Standard Vinyl Weatherguard is a heavy-duty section of vinyl that also rolls up with your awning to protect the fabric from different elements and is standard on most of Carefree's fabrics.
Carefree of Colorado's patent-pending FLXguard is a new, proprietary polymer designed to have the flexibility of fabric, but the toughness of metal. It is welded to the awning fabric to eliminate seams or bulky hems, and is available in black or white.
The PREMIUM vinyl is made with a heavier 15 oz. fabric and is double hemmed and double stitched with anti-microbial embedded Gore® Tenara® red thread that is made to stand up against mildew. This fabric is built to hold up better than any other fabric against light, weather and cleaners.
This universal repalcement canopy is a 1-piece fabric meaning the valance and the main canopy section is one single piece of fabric. With 2 of the poly cords sewn into the fabric, and 1 poly cord included un-installed, Carefree has designed a universal fabric with a sleeker look and a much easier installation compared to their competitors.
The 3rd poly cord needed for installation is included along with Carefree of Colorado's Spline Tool which allows you to press the poly cord into the other channel on the roller bar (roller tube). Not sure what this means? Check out the videos of this product to see the installation in action!
HOW TO MEASURE:
Do NOT measure your existing awning fabric.  To find your awning fabric replacement size, take a measurement from the center of the left side awning arm to the center of the right side awning arm.  Fabric size is determined by center of arm to center of arm measurement ONLY.  When taking your measurement to determine your awnings size, you will act like the fabric is already removed, do NOT pay any attention to it.  You are measuring the center to center (middle of left arm to middle of right arm) distance between your awning arms, you are NOT measuring your fabric.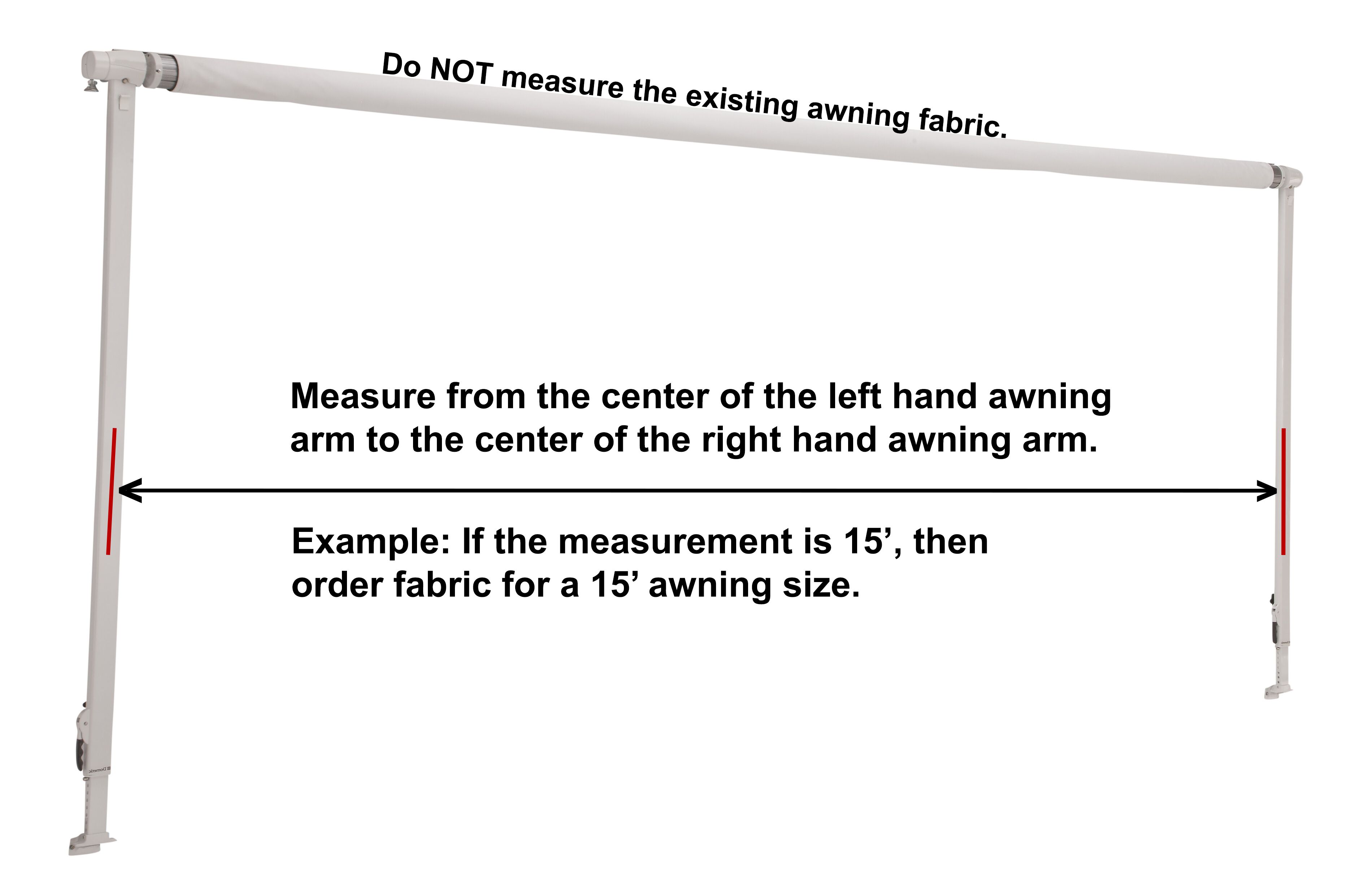 For Example ONLY:  If you measure your awning arms from center of the left arm to center of right arm and get a measurement of 15' in length, then that means you have a 15' awning system.  The fabric that would fit on a 15' length awning system would measure approximately 10" shorter.  So in this scenario, you would select 15' as your awning size so that you will receive a fabric measuring 14' 2" in length which will fit on your 15' awning system.  
Still not sure how to order the right size fabric?  Please email us your center of arm to center of arm measurement and any other information on your awning you feel might be helpful for us to assist you with ordering the correct awning size.  
More Information
Item #
C-P-Replacement Fabrics
Brand
Carefree of Colorado
Fits
Carefree of Colorado, Dometic (A&E Systems) and Solera (Lippert Components) standard patio awning systems with center of arm to center of arm measurements ranging from 14' to 21' in length with an 8' extension.
Features
Double-Sided Premium Vinyl Fabric
White Vinyl Weatherguard, White FLXguard or Black FLXguard Options
Actual Fabric Measures 10" Shorter Than Center of Arm to Center of Arm Awning Size
One-Piece Vinyl Fabric (Valance and Main Canopy Are Sewn Together)
Double-Hemmed and Double-Stitched with Red Long-Lasting Gore® Tenara® Thread
15 Ounce Vinyl
Attaches to the Fabric Rail using 1 Sewn-In Poly Cord
Attaches to the Roll Bar (Roller Tube) using 1 Sewn-In Poly Cord and 1 Press-In Poly Cord
Included
(1) One-Piece Premium Vinyl Awning Fabric w/ Valance
(1) 1/4" Poly Cord Sewn Into Fabric
(1) 3/16" Poly Cord Sewn Into Fabric
(1) 3/16" Press-In Poly Cord
(1) Spline Tool (Press-In Poly Cord Tool)
Dimensions
Actual Fabric Sizes Range Between 13' 2" up to 20' 2" in Length with an 8' Projection
Warranty
Limited 10 Year Manufacturer Warranty
Special Order Item
Yes
Return Policy
Non-Returnable/Non-Refundable
LTL Freight
No
WARNING: This product can expose you to chemicals, which is known to the State of California to cause cancer and reproductive harm. For more information, go to
www.P65Warnings.ca.gov
.