ADCO 5th Wheel Skirt - 64" x 266"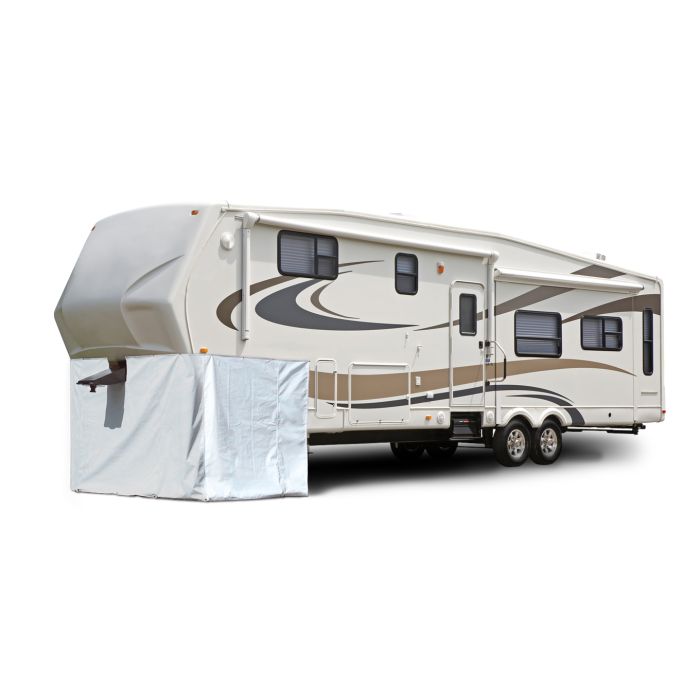 ADCO 5th Wheel Skirt - 64" x 266"
Use your Kingpin box to add some storage with an Adco 266" White 5th Wheel Skirt. Easy installation, heavy-duty 3 layered vinyl skirting that provides extra storage space for all of your camping toys.
Return Policy
30 Days (After Delivery)
Description /
ADCO 5th Wheel Skirt - 64" x 266"
Don't let your belongings that are outside be open to the public, get an Adco 5th wheel skirt and use that extra space to create a storage room for your bicycles, toys, and equipment that will not fit in your RV!

The Demco 266" 5th Wheel Skirt comes with 3 zippered doors giving you easy entry into all sides of your 5th wheel skirting. Have extra camping chairs you do not want to keep outside? Store them in your very own vinyl 5th wheel skirt storage compartment!

New removable Velcro cutout for extra-large King Pin tongues, you don't have to worry about your trailer tongue on your 5th wheel being too big to add an Adco 5th Wheel Skirt. With easy installation, screw-in snap fasteners and tent spikes installation is a breeze!

The Adco 266" 5th Wheel Skirt is made of heavy duty laminated vinyl material and is composed of 3 layers of fabric to protect your belongings. Wind or rain storms no more running outside to throw things into the truck or camper. Your camping chairs or bikes will be safely protected under a vinyl 5th Wheel Skirted shelter!

** For correct fit, measure height and length around front of overhang.

More Information
| | |
| --- | --- |
| Item # | 56347 |
| Brand | ADCO |
| Model | 3502 |
| Color | Polar White |
| Included | Includes screw-in snap fasteners and tent spikes. |
| Dimensions | 64" H x 266" W |
| Warranty | Limited 3 Year Manufacturer Warranty |
| Special Order Item | No |
| Return Policy | 30 Days (After Delivery) |
| UPC | 723111035029 |
| LTL Freight | No |
Customer Reviews
5th wheel skirt
Follow the simple directions and it goes on easy. Good quality. Great price. I recommend it.
Great product. Keeps things out of sight from probbing eyes.
Only problem I have had with this product is the snaps and the grommets fail after about a year. Everything else is great.
Good Quality Skirt if you are an Experienced RV'er
Review by
Traveling Gourmand99
This is a generic skirt the installation of which should ONLY be attempted by experienced RV's. Measurement is crucial since the skirt is centered to surround the 5th wheel hitch. The design of 5th wheels differ from model to model. Simply installing the skirt with the provided metal snaps may allow rain water to enter behind the skirt. The design of my 5th wheel allowed me to attach aluminum angle iron under the overhang. This allowed me to move the snaps slightly under the overhang so that rain water coming off the sides flowed outside of the skirt. If you chose to install the skirting on the angle iron, it is important that the aluminum angle iron is appropriately secured and sealed to retain the watertight integrity of the gel coat of the 5th wheel. Further, the skirting is generically sized to fit many different styles of 5th wheels so there is a good likelihood that you will have extra material. This can be easily resolved by using industrial strength hook and loop fastener to secure the end of the material. The skirt is well made with heavy duty zippers that are place in a variety of locations to allow easy access from either side or the front. It is worth the money.