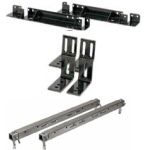 Mounting Kit Application Guide: Click Here
Universal: "L" brackets are bolted to the frame (weakens the frame with the added drilling). Fixed rails stay in bed.

Custom: Custom brackets made specifically for your truck and "Industry Standard" top rails. Fixed rails stay in bed.

SuperRail: Custom designed mounting brackets use existing frame holes. Easily removable bed rails giving you a smooth, clean truck bed. Also allows you to keep bed liners in place!

Please call Pullrite directly to verify which kit is right for your truck AND hitch! Reach them at 1-800-443-2307

Helpful Tip: If you are looking for plugs to fill the post holes made by your removable superglide kit, Ford makes a bumper plug that works for this application. It is Ford part number XL3Z-17D754-AAB. You will need to contact your local Ford dealer parts department to order (or search online).
&nbsp