We can't find products matching the selection.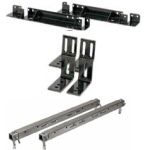 Mounting Kit Application Guide: Click Here
Universal: "L" brackets are bolted to the frame (weakens the frame with the added drilling). Fixed rails stay in bed.

Custom: Custom brackets made specifically for your truck and "Industry Standard" top rails. Fixed rails stay in bed.

SuperRail: Custom designed mounting brackets use existing frame holes. Easily removable bed rails giving you a smooth, clean truck bed. Also allows you to keep bed liners in place!
My Wish List
Last Added Items
You have no items in your wish list.