Howdy, fellow RVers!

So you just drove off the lot with a brand new RV, and the last thing you want is for it to get dirty or damaged by the elements. It's time to look into getting an RV cover. There are only a few options to choose from, so this is one of the easier decisions you can make when it comes to buying RV parts. I know, because I've been looking for one myself. Here's what I've found.

Understandably, the first factor to consider is the climate where you will be storing your RV. If you live in an area with more rain than sun, e.g. the Northwest, you will want to consider buying a SFS AquaShed cover. These covers are recommended if you live in an area where more moister is present and the risk of mold is higher. By providing major breathability, these covers nearly eliminate mold and mildew. The SFS AquaShed panel on top of the cover causes water to bead on contact, creating a resistance to moisture. If AquaShed sounds like it would suit your needs, Dyer's RV carries the Camco UltraShield and the ADCO SFS AquaShed covers.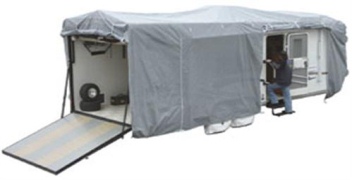 If you live in an area where the climate has intense sun, rain or snow you may want to consider a Tyvek cover. These covers protect against UV rays, rain, dust, bird droppings and anything else that hopes to damage your RV. Polypropylene sides provide breathability, which keeps out mold and mildew, and the two-layer Tyvek top panel contains pores that resist water and allow moisture to evaporate from within. Major advantages of Tyvek include: Effectively blocking 99.8% of the sun's damaging UV rays that can fade interior and exterior surfaces; resists acid rain, bird droppings, tree sap and other forms of environmental pollution to keep your RV clean; and Holds out more than 98% of dirt and dust particles that can scratch and damage your RV's surface. The Tyvek cover is a good all around cover that protects against anything "intense". Whether you have tons of sun, mounds of snow, or down pours of rain, you can't go wrong with a Tyvek cover! If this is the cover for you, Dyer's RV offers the Camco UltraGuard and the ADCO Tyvek covers.



Once you've decided which type of cover you think is best to protect your RV you'll need to choose the right size. There are plenty of sizes to choose from, so be sure to consider your type of RV to ensure a proper fit. Some measuring guidelines are listed below:

- When measuring for a class A or class C cover you should include the ladder but exclude the bumper to allow for a proper fit.
- With 5th wheel covers your measurements should include ladder, bumpers, and spare tire.
*Notes: It's not necessary to factor in the hitch or ground clearance.*
- For travel trailers, pop-up trailers and Hi-Lo trailers you should exclude bumpers, hitch, spare tire, and ground clearance.
*Notes: With pop-up and Hi-Lo trailers add 1 foot to the measurement if you have a roof mounted a/c unit.*

Now that I've done the legwork you just need to buy your new cover. Don't underestimate the value of a quality RV cover. With the right cover you'll be saving yourself the time and effort of washing your RV prior to your next trip. Consequently, all your camping buddies will be talking about your shiny RV . . . free of rain spots, sun damage, and that ever-annoying bird mess!