Shipping
Truck Freight Items
Some items on Dyersonline.com, due to the size and or weight, must ship via Truck Freight. These items will have a LTL Truck Freight shipping charge unless the item is marked as free shipping. The LTL Truck freight charge and free shipping is for items shipped in the lower 48 states.
The carrier will be contacting you prior to delivery to schedule an appointment date and time window. Please be available on the phone number that you left on your order and return any messages as soon as possible if you miss their call. They will only hold your order in their facility for a limited number of days if no contact is made or no return call is received. Truck drivers are subject to a number of regulations, one of which is that they are not required to assist with unloading. Freight deliveries are made at curbside, and your merchandise is moved to the back of the truck. YOU ARE RESPONSIBLE FOR UNLOADING! You may need to have some friends available to help you unload your merchandise. Please plan accordingly.
Some terminals have lift gates available should you need one. If you require a lift gate, please notify the trucking company when you schedule your delievery appointment. The lift gate service is an additional cost and you will be responsibly for paying the trucking company for this addition service.
Receiving your order -
Please inspect all items BEFORE accepting them from the delivery company. Make sure that the number of packages on your Bill of Lading matches how many packages you are receiving!
Please follow the below instructions bases on the condition of the items and its packaging.

GOOD:
If your order arrives in good condition, please sign, accept and enjoy your new parts!

BAD:
If your item arrives with obvious physical damaged, please make notes on the delivery paperwork, refuse the shipment (do not accept the shipment from the driver) and notify Dyers immediately. DO NOT SIGN FOR AND ACCEPT A PHYSICALLY DAMAGED PRODUCT.

UNSURE?
If the packaging is damaged but there is no obvious physical damage, please note the condition of the boxes/shipment on the paperwork when receiving. If you have the ability, photos documenting the condition of the shipment before it comes off the truck would be advised to take and to save.

Items that are received damaged with no notes cannot be later claimed as "concealed damage" as there is no way for us to prove to the carrier that the damage occurred during their possession before the delivery was made. IF YOU ACCEPT AND SIGN FOR A SUSPECTED DAMAGED SHIPMENT WITH NO NOTES ON THE PAPERWORK, THERE IS NOTHING WE CAN DO, YOU WILL BE RESPONSIBLE FOR FILING A DAMAGE CLAIM WITH THE CARRIER.
Standard Ground Shipments (UPS, Fed Ex, USPS ... )
Please inspect all items upon or shortly after the delivery. If you are present at the time of the delivery and an item arrives damaged please refuse the item (do not accept the shipment from the driver) and notify Dyers immediately. If you are not present during the delivery please inspect the items at your earliest opportunity and notify Dyers of any damage. You have 15 days from the delivery date to notify Dyers of products damaged in transit.
International Shipping
Shipping Rates*
*Dyer's free and or flat rate shipping promotion exceptions. Additional charges WILL be applied for HI, AK and US territories*


To determine the shipping amount, follow the instructions below.
Step 1: Add the item(s) your interested in to your cart.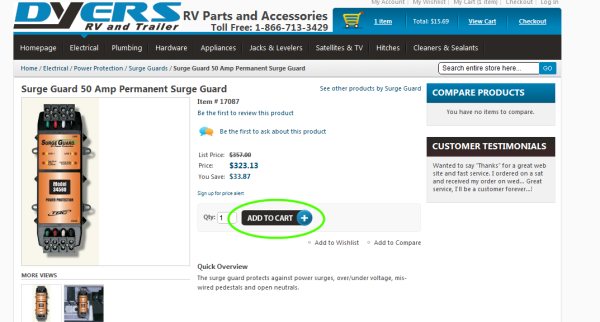 Step 2: Fill in your state and zip code and hit "Get Quote" to get a shipping qoute.